WAGGINWHEELS HAS EXPANDED!
WagginWheels Unit #2 is up and running! Call or text 306-270-9634 or email deenna@WagginWheels.ca for your appointment!
Why WagginWheels?
Most pets experience anxiety and stress before, during, and even sometimes after a visit to a grooming shop. While waiting to be groomed, pets are usually crated - sometimes for hours. In addition, pets may be exposed to the smells, noises, parasites, infections, diseases and aggression of other pets.
WagginWheels Mobile Pet Grooming is perfect for:

• Pet owners who lead busy lives and appreciate the convenience of a service that comes to them
• Retirees and seniors
• Pets that experience car sickness or anxiety
• Pets with health conditions where elevated stress can cause harm
• Those who simply believe that their pet deserves exclusive, top-quality service

Go Mobile!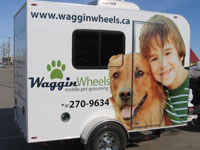 WagginWheels Mobile Pet Grooming operates in a customized, climate-controlled salon that comes to your home or business - at your convenience! Your pet receives exclusive, one-on-one care by a certified professional pet groomer in a clean and relaxed environment.
Knowing your pet is well cared for means less worry for you!
Click on the image
above to get a closer look!